As people start to get their Hapax, I wonder what combinations you will use with it?
Of course, it's suited to big setups, but equally I've had fun with it on smaller setups.
Obviously multi timbral is likely winner.
Yesterday, I dragged out my old Spectralis , and wow, what a fun combo … breaths new life into it.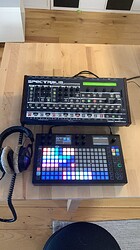 I've also used with my virus TI, buts that's not so easy as photo opportunity

What's your 'light' pairings?