Dear forum members,
I got my first Pyramid MKIII and I am super excited. I am trying to build my home studio, which can be played/recoded live DAWLESS and "also" can be switched to DAW mode (Abelton/Cubase) when composing/arranging/mastering, etc. While I am not a complete amateur with MIDI, I am no expert either, but I learn fast. I thank you in advance for your assistance.
Below is a snapshot of my current setup - all my gears are depicted visually idemtifiable.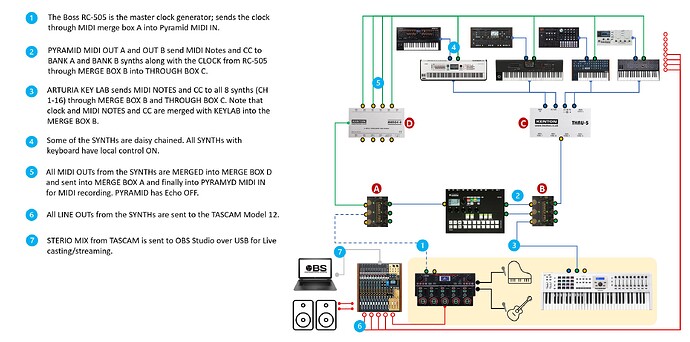 Gears at a glance:
Sequencer: Squarp Pyramid MKIII

Analog Looper: Boss RC-505 MKII

MIDI Controllers:
Arturia KeyLab 61 MKII

Synthesizers/Arrangers/Workstations:
Yamaha Montage
Korg PA4X
Behringer MonoPoly
Sequential Take 5
Roland Jupiter XM
Behringer DeepMind 12D
ASM Hydrasynth Desktop
Waldorf Blofeld
Clarifications
Do you see any issues in this setup for live playing and recording considering the following?
The KEYLAB MIDI OUT is merged with the PYRAMID MIDI OUTs at the merger - instead of taking it through PYRAMID MIDI IN. All the synths have local control ON.

The BOSS RC-505 is not receiving any Clock from Pyramid. The Pyramid distributes the clock from BOSS to all other Synths.

The TASCAM is merging the channel inputs into sterio signal for OBS live streaming.
Questions
How do I connect all these gears over USB for DAW setup? I would like to use MIDI and Audio over USB as all these synths can transmit MIDI and Audio over USB and all of these are also connected on a powered USB Hub. I will use my computer as the USB Host.

Do I need to invest in something like MIOXM / Blokas MIDI Hub / BomeBox to seamlessly use all 48 channels of the Pyramid? As some of my synths are multi-timbral - it would be great to expose all 48 MIDI outs from my Pyramid. Also, to be able to route / translate MIDI to USB and vice-versa in between the controllers and the synths.

When in DAW mode - Can I record the MIDI notes and CC messages from the Pyramid into Ableton/Cubase?

In the DAWLESS Live mode - how do I trigger the TASCAM to start/stop recording?
I know it's a lot of questions here; I appreciate your feedback and thoughts. While waiting for your response, I am also going through other forum topics.
Best,
Shiv