I am making this a post so I can direct Squarp to this URL when I submit this as a feature request - but I'd also like to hear if this is something other people would be interested in…
I've only owned the Pyramid for about a month but I'm already loving what it can do. The only place where I feel like the functionality is lacking is the SEQ mode. I think that by adding a Pattern 'RUN' option similar to what already exists in the Track mode, the usefulness of the SEQ mode could be greatly increased.
Two major shortcomings I see in the SEQ mode are:
There is no way to add 'randomness' to either a single sequence or to the 'play/loop project' mode (sequence of sequences). Yes, you can add 'Chance' effects to different tracks/steps, but there is no way for the sequencer to choose a random 'phrase' of notes (i.e. a Pattern). Having this option would open up a whole new level of generative music creation on the Pyramid.
The other shortcoming is that when a Track is active/unmuted on a Sequence, only one Pattern will be played on that Sequence. This means that if you have a single Track that contains five Patterns, to play those five Patterns, you would need to create five Sequences. If you always wanted to play the five Patterns in order, yes- you could combine them into a single Pattern or Track, but if you wanted to use those five Patterns as song 'phrases' which you switch between live or in 'play project' mode, you've just used up five Sequence slots. Now say you have a second Track containing five Patterns. This is somewhat of an extreme example but if you wanted the option to switch between any combination of Track 1 Pattern 1-5 and Track 2 Pattern 1-5, you've now used 25 of the 32 available Sequences in your Project and you're only using 2 of the 64 available Tracks!
So, how to address this without changing too much about this product which has been around for years? My solution would be to create a 'RUN' option on the Pattern menu, similar to the 'RUN' option found when pressing 2ND+Track.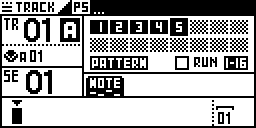 This option would be Sequence specific in the same way that the currently-selected Pattern is Sequence specific. You would get to the option by using the data knob, which is currently not used at all on the Pattern selection screen.
For all existing projects, the Pattern RUN option would be set to blank/disabled. This is the current functionality: when the Sequence is running, the currently-selected Pattern loops.
When enabled, the Pattern RUN option could be set to 'Random' to play the Track's Patterns in a random order! At the end of a Pattern, instead of looping, the Pyramid would choose from the used Patterns and play one at random. This would not negatively affect Pattern editing, because a single/static Pattern is still selected in the Pattern menu.
Or, the Pattern RUN option could be set to 'Play' (referred to in the manual as 'free run') to play through each Pattern on the Track in numeric order (Unused Patterns being skipped), beginning with the selected Pattern. (Since a single pattern is always selected per Sequence, this selection is the perfect way to tell the SEQ mode where to begin playing.)
Or the Pattern RUN option could be set to 'Relatch' - this would work the same as 'Play / Free run', but if the SEQ changes to another SEQ containing the same Track/Pattern option currently selected, it would restart at the selected Pattern again instead of continuing to play from the current position.
I feel like this solution 1) uses terminology already in place in other areas of the OS 2) would have zero negative effect on existing projects and, most importantly 3) adds significant functionality to the OS without almost any added complexity to the user.
Imagine having Track 1 with 5 Patterns, set to Play/Free Run, Track 2 with 3 Patterns also set to Play/Free Run, and Track 3 with 4 Patterns set to Random. You now have a very complex chain of patterns running using a single Sequence - and you didn't have to think about how to set up your Sequence Chain to accommodate it… and you didn't have to save different 'consolidated Patterns' as separate Tracks or Patterns which would need to be edited/updated separately if you choose to edit one part of the Pattern in the future.
As I said above, this would open up the Pyramid to the creation of more 'generative' / randomized music and really fun experimentation. This could be a late-life feature that gets a whole new audience interested in the Pyramid! I know I've bought-in to a device/platform that is six years old and no longer receives new features very often… but I can dream, right?