Anyone using a keyboard with a sustain pedal with Hapax?
I'm finding that it records presses and releases of the sustain pedal as cc64 just fine, but unless I release the sustain pedal before the end of the loop, it subsequently doesn't record a cc64 automation value 0 there. And since I didn't start the loop with a sustain pedal release (which would be next to impossible), there's no cc64 value 0 there either.
So what happens is that until I go into the automation screen and manually set the cc64 at the beginning of the loop to 0, the sustain doesn't turn off at the beginning of the loop, which isn't great. I've also tried setting the cc64 default value to 0, but it doesn't seem to do anything. I have to manually set cc64 automation to 0 at the start of the loop after it's been recorded.
Idea #1
It would be great if there was an option for Hapax to either automatically add a 0 value cc64 message if cc64 is non-zero at the end of the loop.
Idea #2
I've actually been thinking about this for a long time, and think it would be a really effective solution for solving some sustain-related problems I've encountered with various sequencers over the years.
It would be great if there was an option, where instead of Hapax treating sustain as a MIDI CC automation lane, it would actually just extend the effective length of notes recorded while sustain is active, and explicitly not record any MIDI CC automation.
In a practical sense, sustain isn't usually an automation lane that you'd manipulate, it's really just a tool to help people play piano as if they had more than 10 fingers. While sustain is technically a MIDI CC, and most MIDI devices understand it, sustain also behaves differently than any other MIDI CC, because it effectively postpones MIDI Note Off message for notes being played while the sustain pedal is pressed, until the pedal is released.
In this example, a quarter note is played on beat one, but before the note is released, the sustain pedal is pressed and held until the end of beat 3. Hapax records both the quarter note on beat one plus the cc64 automations where sustain is pressed and subsequently released.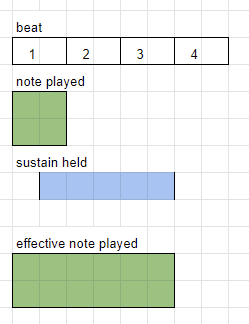 But think about this, what if Hapax could just record a dotted half note on beat one and didn't record the MIDI CC 64 automation? The note would start and end in exactly the same place, but it would be significantly easier to reason about and edit in the step editor, and we wouldn't have any weird cc64 issues, either. I think this would be a very helpful feature for anyone who tries to record MIDI notes while using a sustain pedal.
Thoughts?