I'm sending MIDI from Hapax to Intellijel's MIDI 1U system, which in my case includes an expander. I'd like to be able to use the high resolution CC's that the Intellijel system supports. I configured an output like this: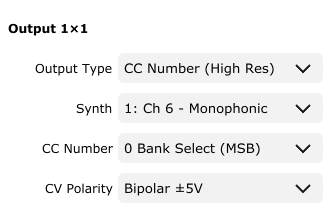 In the Assign screen, choosing a standard CC doesn't really work because it only shows 0-127 when you turn the encoder. I tried the NRPN option and set MSB to 0x00 (0) and LSB to 0x20 (32) because my understanding from the Intellijel config utility is that the LSB is always 32 greater than the MSB. I also set it to 14 bit.
Anyways, it doesn't seem to do anything… the CV output is stuck at the bottom of the range and isn't effected at all when I turn the knob. Also not sure this would be very useful because it takes a LOT of knob turning to get around the range of a 14 bit number.
I'm also interested in sending out high resolution CC from automation. Wondering if there is support for this or if it's a feature request I need to make.