In the MIDI effect, with a default "Root Note" value of 60, Middle C (C4) outputs 0.00V, and other C values are in tune at -1.00V, -2.00V, +1.00V, +2.00V, +3.00V like I expect. (I'm measuring the voltage with an oscilloscope)
If I attempt to transpose the track up or down by some number of octaves by changing the Root Note from 60 to other multiples of 12, I expect Hermod to output voltages that are exact multiples of 1 (no decimal places) for various C notes, eg. 1.00. However, I'm seeing voltages that are substantially different, eg. 0.95, 1.06, which results in some very out-of-tune synths: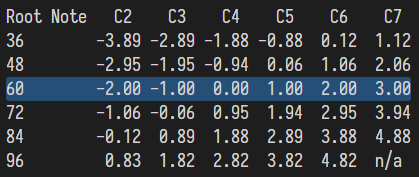 In practice, what this means is that in order to transpose up 2 octaves, I need to set Root Note to 85 (not 84) and Fine Tune to 60 (!) and I need to use a scope or a tuner to do it, because I have no idea what the drift is going to be. I feel like I should just be able to set Root Note to 84 and not adjust Fine Tune at all.
I'm seeing this behavior on multiple tracks. Here's a different track:

Notes:
With a Root Note of 60, some tracks output non-exact voltages, which is easy enough to adjust with the "Fine Tune" setting
In the online manual it's called "Root Note" but in my Hermod (fw 1.30) it's called "Root Note 0V"
Is anyone else seeing this?
I'm also going to file this as a bug report.